OMRON - The LD mobile robot
OMRON offers totally autonomous solutions that offer the possibility of increasing production flow, reducing machine downtime, eliminating errors and guaranteeing the traceability of materials. In the same way, this equipment allows operators to focus on tasks that require higher skills. In addition, unlike ordinary AGV solutions, LD mobile robots adapt to existing infrastructures, thus avoiding additional investments in changing the layout of your structures.
The operating principle
MobilePlanner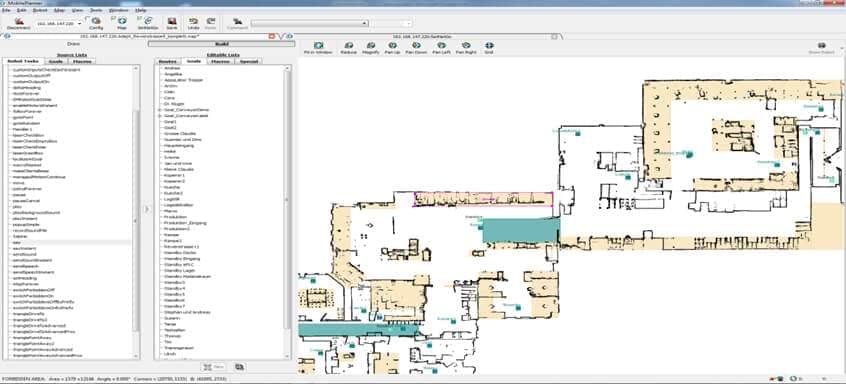 MobilePlanner is the PC software associated with the equipment to manage one or an entire fleet of robots.
• Maps for mobile robot applications
• Includes configuration means that allow robots to adapt their characteristics or program their sensors, cameras, etc.
• Schedules tasks and adds moves

Flexible card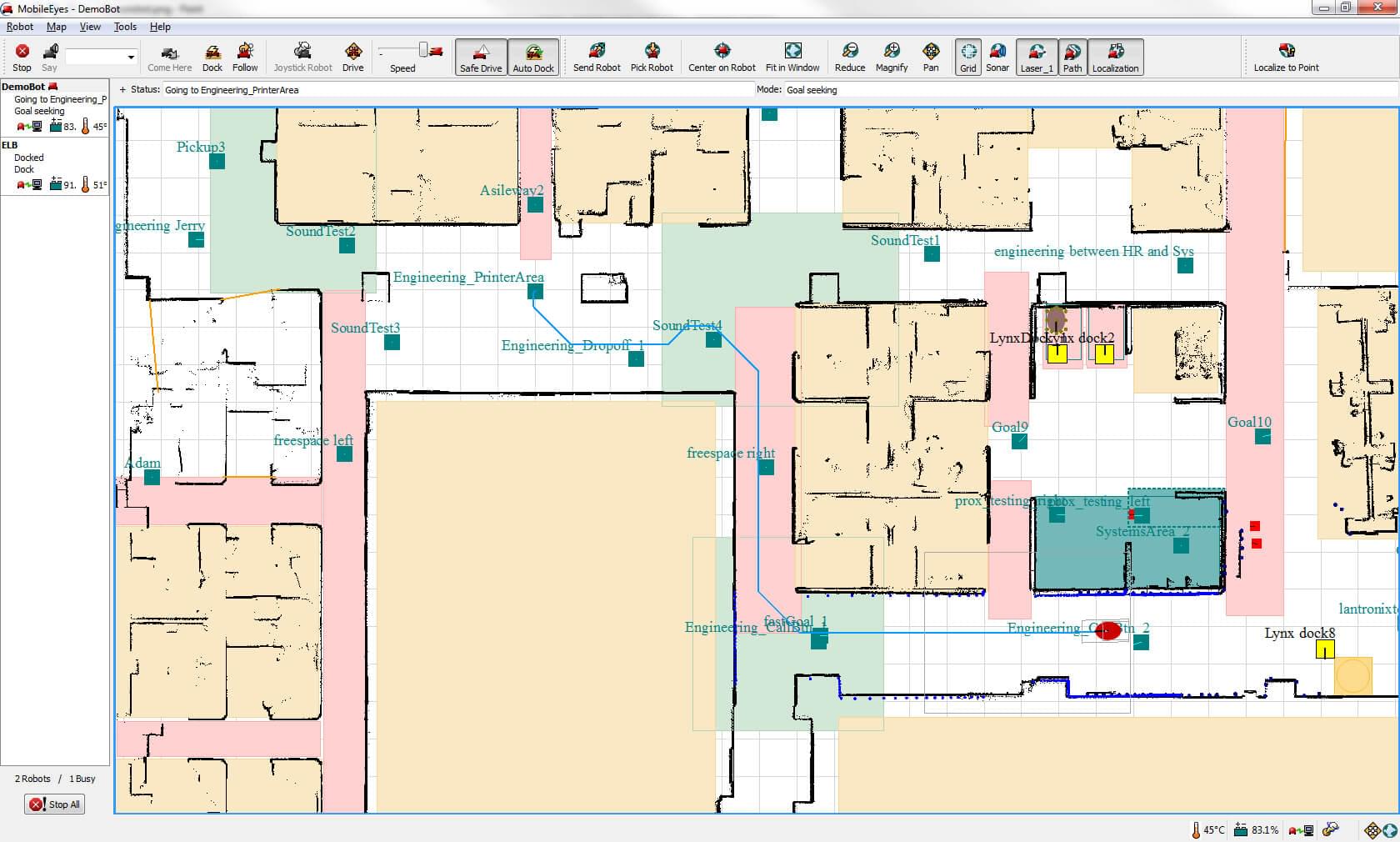 Our smart vehicles use an integrated laser to scan the environment and design a map that they can use to move around. You can also use MobilePlanner to upgrade the navigation map and :
• Insert collection and delivery benchmarks
• Insert space delimitations
Strict navigation


If the robot space evolves radically (especially in factories and warehouses where tools such as pallets or trolleys are moved regularly), the system uses Acuity technology to assert the "location" of the embedded laser. This option allows you to locate the lighting points on the ceiling in order to position "light markers" that are superimposed on the "location map". It also allows mobile robots to move easily through the open spaces of large warehouses.

Security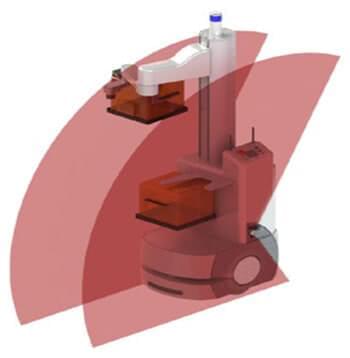 The technology of our mobile robots guarantees the total safety of operators. Lasers and other types of sensors are directly integrated to identify obstacles that can hinder their trajectory and, depending on their speed, cause an emergency stop to prevent a possible impact.
• Laser LIDAR
• Lower laser
• Lateral laser
• Front bumpers
• Sonar

Fleet management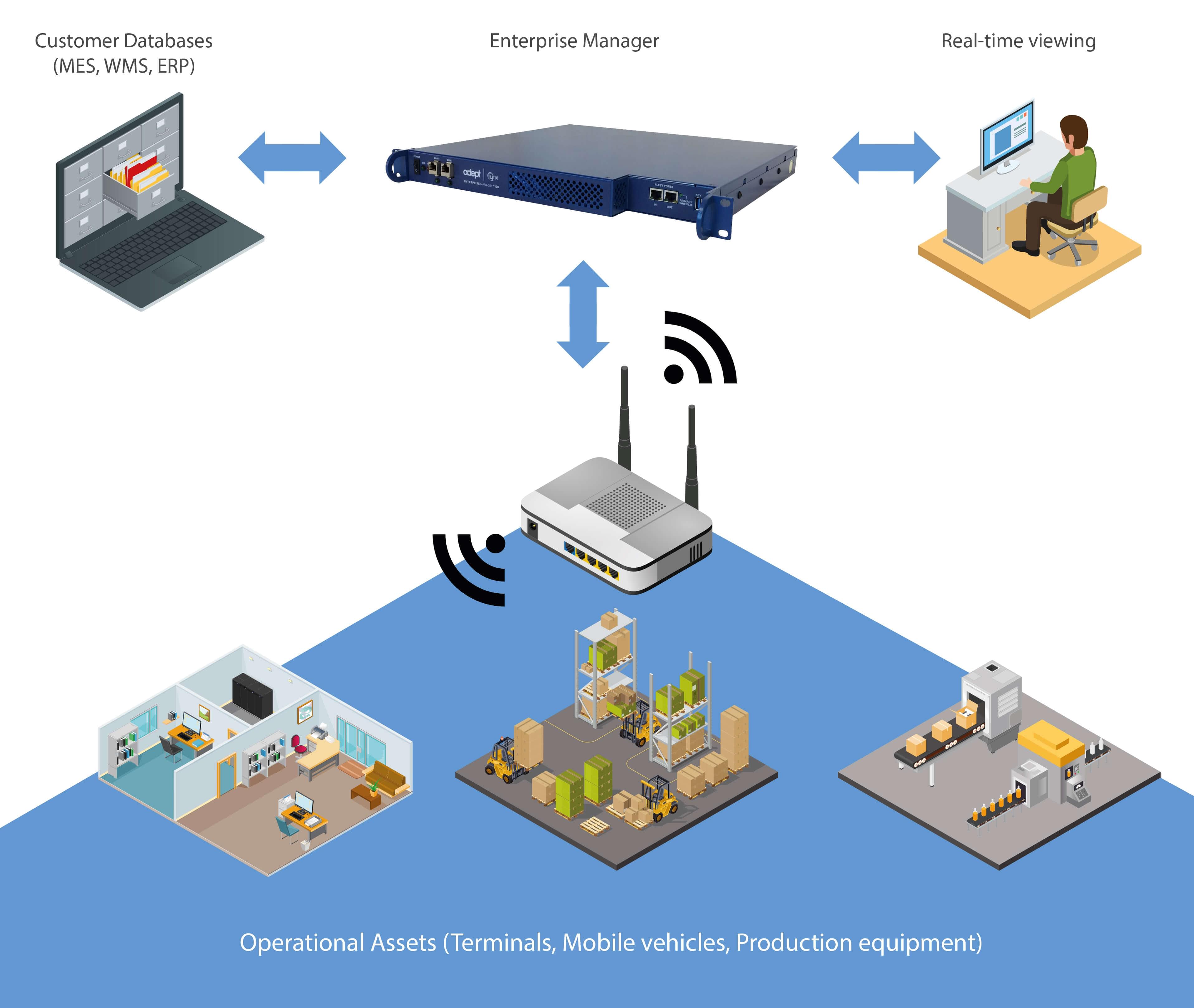 Enterprise Manager is a network that guarantees the synchronization of several mobile robots when they are used in the same space.
• Distributes the different transfer requests (tasks) : shares the missions between the different mobile robots by choosing the most suitable vehicle for each of them
• Traffic control : improves vehicle mobility
• Communication : a single interface linked to factory systems (MES, WMS, ERP, etc.)
• Configuration management : groups all the system parameters of the vehicle fleet
The advantages of using our mobile robots
• No pre-programming of the route
• Auto-mapping thanks to the embedded PC
• Quick installation
• ESD antistatic version for the transport of electronic components
• Easy tablet interaction with MobilePlanner, recently updated
The different models of mobile platform and trolley transporter
Mobile platform
The OEM mobile platform allows developers to create custom applications and payloads. It consists of self-browsing software, perfectly suited for use in congested spaces, cramped corridors and for applications where autonomous vehicles have an advantage. These tools are equipped with a reliable drive system, on-board power supply, automatic loading system and I/O to integrate payload equipment on a mobile platform.
Our OEM mobile platform is available in two configurations, always with an operating time of 19 hours per day:
• The LD60, able to carry up to 60kg (maximum speed of 1.8 m/s)
• The LD90, able to carry up to 90 kg (maximum speed of 1,35 m/s)
Carriage conveyors
The trolley conveyor has been developed to attach to the trolleys and move them from the collection point to the delivery point. It is widely used for restocking stocks, moving crates, transferring products in production between different stages of production and moving goods to the warehouse. This tool uses existing elements to find your way through space. This way, you will not have to modify your infrastrucre. This trolley conveyor works securely with existing doors and corridors. He can also find his way around and avoid people, forklifts and other objects in his path.

Our trolley conveyor is available in two versions :
• The LD-105CT with 105 kg payload (maximum speed of 1,35 m/s)
• The LD-130CT with 130 kg payload (maximum speed of 0,9 m/s)

Main accessories :
• Lateral laser kit : a patented technology that allows the robot to avoid obstacles and offers more safety
• Kit Acuity : allows each mobile robot to move in a mobile environment such as warehouses and busy factories
• Docking station for robot charging
• HAPS (High Accuracy Positioning System) : for applications requiring very precise alignment of the robot with conveyor inlets or outlets, container filling stations, etc
• Call button : allows the user to call a mobile robot at a particular location. It also included digital I/O that can be used to open doors
• HMI : 7-inch touch screen allowing the operator to interact with the robot
In application