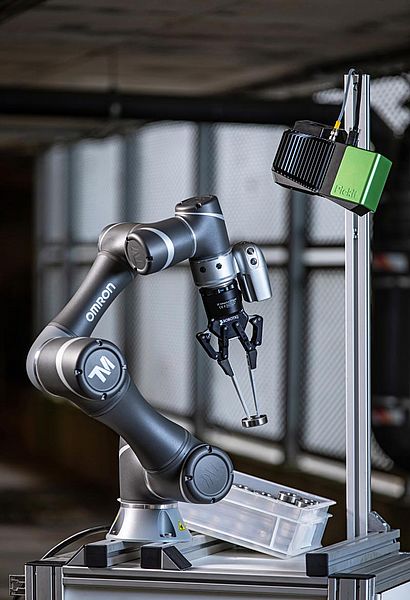 Lease your collaborative robot
Let us facilitate your automation project
You don't know how to quickly implement your automation project?
You have neither the time nor the desire to approach your bank for this type of investment?
BIBUS France facilitates automation projects for all types of companies by helping you to define your robotics needs and to put together your application for financing.
Many advantages for VSEs, SMEs and ETIs:
Optimisation of the production area
Increase in productivity
Reduction of MSDs (musculoskeletal disorders)
Indeed, the integration of cobots into your production chain allows you to increase your process in an agile, flexible and scalable way while improving product quality and boosting the growth of your company.
A "turnkey" solution
It only takes a few days to make a collaborative robot functional.
Our "turnkey" solution integrates :
The definition of your automation project
Submitting your financing application to our partner financing company
On-site integration of your cobot
Training of your teams and equipment maintenance
So you can enjoy the benefits of automation provided by collaborative robots whenever you want.
Financing and express activation
No initial investment is required and no impact on your balance sheet. The financial and operational flexibility provided by our rental offer allows you to immediately integrate a cobot by self-financing the cost of the rental.

As a result, you don't have to worry about cash flow or other seasonal factors related to your business.
| | | |
| --- | --- | --- |
| Project study | Submission of your file to our financial partner | Response to your file within 48 hours |
| Final validation of your project | Delivery, training and installation | Get your cobot in 1 week |
Tailor-made service
Our robotic engineer Abdelkader will study the feasibility of your project according to your needs and objectives.
Once this has been determined, a free on-site demonstration is carried out by him, in order to show you the capacity and simplicity of use of the cobot in real life.

Thanks to the rapidity and ease of their integration, the cobots we offer are particularly designed for small and medium sized companies wishing to start automating.
---
Through our white paper "How to succeed in your first project in collaborative robotics", discover which needs and applications are met by setting up an automation project.
We come and study your project !
Ask for a free demo !