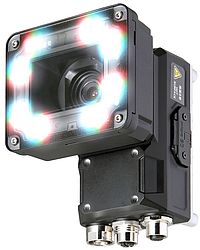 Omron Microscan's FHV7 camera is a unique camera for inspecting different products.
Equipped with a multicolor light and an autofocus lens, the FHV7 camera can measure objects of different colors and sizes on the same production line in a stable way.
The lighting colours and lens focus can be adjusted by parameters, so that the mechanism for replacing lights and PTZ cameras is no longer necessary, significantly reducing the time required for design and adjustment and the number of machine components.
The FHV7 smart camera offers several component options, allowing you to freely combine lens and light with the camera and easily adjust optical conditions to specific products. The camera footprint is not affected by the replacement of the module. Even in the event of a sudden change in product specifications, the system can be ready after a minimal rearrangement.
All-in-one models with lens modules and light modules are also available.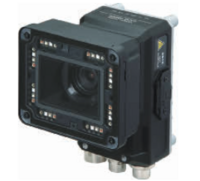 Advantages
Increases production quality without sacrificing cycle time
Multitude of combination possible and adapts to any type of production
IP67 Structure maintains IP67 tightness even after module replacement, allowing use in human conditions.
Easy to replace filter
No need to prepare a dirt protection cover, the lamp cover and optical filter can be replaced.

Easy addition of external lights
You can easily adjust the intensity of the light emission and adjust the light emissions to synchronize them with the shutter release from the FHV7 adjustment window.
Adapts to colour variations
The multicolored light changes its illumination color to adapt to each object.
Adapts to size variations
The autofocus lens covers a range from 59mm to 2000mm, the focusing range is easily modified by parameters, which eliminates the mechanical operation of format change when replacing the product and allows for a simpler and more productive system.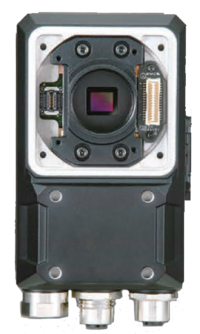 Features
Clear images make inspection easier
Precise control with high resolution images is possible while maintaining the same cycle time as before. The FHV7 smart camera improves production quality through its ability to detect tiny tears or scratches on labels that could not be detected before.

12 megapixel resolution and location variation
The image sensor allows high-precision inspections for larger areas. No additional camera installation required to capture different inspection points on different models on the same production line.
Adjustable settings without downtime
The FHV7 smart camera offers an optimal solution for a longer cycle time problem caused by the addition of inspection points to improve production quality. You do not need to divide the field of view into several parts and assign them to several cameras or install a high-speed vision system.

Traceability and serial number management
The FHV7 smart camera is suitable for applications where inspection results and images are managed by product serial number.
Stable reading of difficult-to-read characters
The printed characters may be too close together and the characters may be printed on curved surfaces.
Even in these cases, a stable reading is possible.

2D Code II provides powerful code reading
The algorithm dedicated to reading stable 2D codes under adverse conditions is implemented. Data based on print quality specifications can be edited, which contributes to stable printing.
Sorting of mixed models
Different types of objects can be sorted.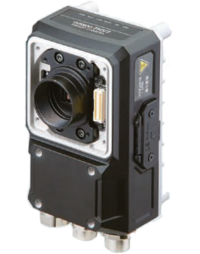 Applications
Shape Search III stably detects all types of objects. Stable position detection is performed independently of shape, material or background.
Automotive Industry
The precise and complete inspection of the mounting points of the parts on different car models is possible without having to move the cameras.
Packaging
When inspecting products such as plastic bottles of different sizes, you can only change the format by changing the setting of the autofocus lens. The autofocus lens does not need the mechanism to move the camera.

Pick and Place
The FHV7 smart camera can be combined with robots for picking and assembly applications.
Robots
Easy exit to the devices of the main robot manufacturers
Dialog boxes for the FHV7 smart camera and robot programs from different manufacturers significantly reduce configuration time for robotic applications.