Easy Troll push-pullers are light, compact, innovative and economical electric tractors that allow you to easily tow and move all types of rolling loads.

These electric tractors are made up of one or more electrics wheels depending on the model, a tiller head and a platform allowing you to place the container on it (or a clamp for the Pinchy Push-Pullers).

These ergonomic transport systems make it possible to handle heavy loads while increasing user safety and efficiency by a factor of 3 or 4.

Indeed, these devices greatly reduce the risk of injury to operators (reduction of MSD risks).
Advantages
Easy to use
Easy handling and space-saving design
Transport of rolling loads up to 1 tonne
Reduced difficulty of work (= end of muscular effort for the user)
Adaptable and interchangeable hanging system
The different models of push-pullers
Depending on your use, several models and versions of electric tractors are available.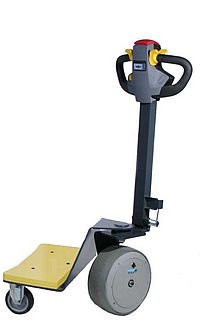 The standard Easytroll
Transport of rolling loads up to 1 tonne
Increased manoeuvrability
Compactness
Reduction of drudgery at work
Adaptable and interchangeable hanging system
Technical characteristics
Rechargeable on mains power
Autonomy up to 15km
Pulling capacity: up to 1000kg
Speed from 1 to 6 km/h
Soft start
Dimensions: H120 x W60 x D65
Weight: 60kg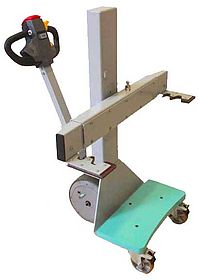 Tirly
Developed on the basis of a standard easytroll, the tirly is equipped with a system designed to transport hospital beds.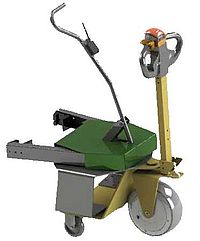 Pinchy

Designed on the basis of a standard easytroll, the pinchy is equipped with a gripper system for roll trolleys, making them easier to transport.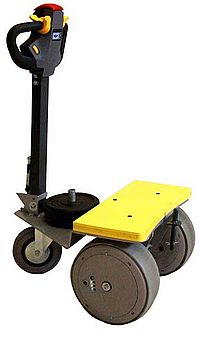 Bully Easytroll
Just the same as the other models, the Bully is designed on the basis of a standard easytroll, with the difference that this electric tractor can tow up to 2 tonnes. It is also equipped with an interchangeable attachment system allowing it to adapt to different situations (trolleys, roll's, containers, cupboards, etc.).
Technical characteristics
Autonomy 15 km
Speed from 3 to 6km/h
Gradual start
Overall dimensions: H120 x W60 x D65
Weight: 100kg
Batteries guaranteed maintenance-free for 5 years
Parameterisable in speed and power
Charged directly from a single mains socket at night in 3 hours
The different versions
You have the possibility to adapt the push-pull to your use and/or working environment :
Industrial tyres (industrial flooring, asphalt, resin...)
Non-marking medical bandage (hospital floor, tiles, carpets... )
Stainless steel model available on request
We adapt the pusher-puller for the medical or food-processing fields.
The different applications
Easytroll push-pullers are also used for applications in the medical sector:
Moving hospital beds
Hospital equipment
Applications in the food industry or in industrial environments.
| | | |
| --- | --- | --- |
| Isothermal containers application | Bed Mover application | Easy troll with clamp system : The Pinchy |
| | | |