Noise reductionand vibration isolation are becoming more and more important in our daily lives. This applies in particular to the workplace and the environments around production companies. Preventing noise emissions or harmful vibrations is therefore not only a necessity entailed by noise protection and occupational health and safety legislation; their sources must also be localised by means of targeted analyses on order to develop suitable improvement measures for achieving, for example, increased production quality. A second by-product of vibrations are their effects on the surrounding production environment and any measuring and testing facilities that may be in use.
Advantages and Functioning
Improved working conditions for people and the environment

More accurate production tolerances and there by increased product quality

Competitive and cost advantages thanks to lower reject rate in production

Increased production speed thanks to increased maximum machine dynamics

Longer tool and machine life thanks to lower stress

Faster and more accurate measuring results
Low Freq. Pneumatic Levelling Mounts
Low freq. pneunamtic levelling mounts keep vibrations and shocks away from high-performance precision machines.
PLM pneumatic levelling mounts are primarily used to isolate test facilities and high-performance machines, while PAL pneumatic mounts are used in precision measuring equipment.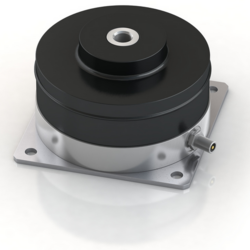 For efficient isolation of measuring equipment, high-speed presses and machines. There are eight different models, ready to use and able to withstand loads ranging from 45 kg to 8800 kg, small or large. Allows all types of equipment to be isolated from unwanted vibrations and at the same time allows perfect levelling thanks to the integrated valve.
Applications: measuring tables, test stations, high speed presses, manufacturing plants, finishing and processing centres.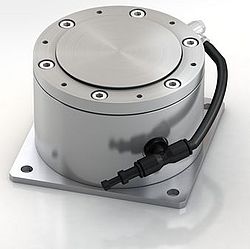 Small pneumatic spring elements with automatic level control
These springs are designed for conditions where the user wants to ensure that the equipment is constantly level and isolated from vibration at the same time.
PAL air springs react quickly to loads and changes in centre of gravity and automatically adjust deviations from the preset position. Available in 3 different sizes for loads up to 385kg per air spring.
Perfect for small constructions requiring precision and flexibility.

Applications : test and calibration equipment, aircraft and automotive test stations, foundation support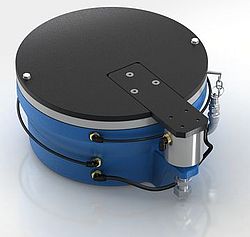 Large air spring elements with automatic level controllers
Anti-disruptive vibration isolation and level adjustment of measuring and test equipment. Insulating at extremely low frequencies, these components are used in the automotive industry and in aeronautical and space engineering.
The system is available in three different sizes for loads from 36 kg to 42,000 kg per air spring
Applications : test and calibration equipment, aircraft and automotive test stations, foundation support
Range of vibration isolation technologies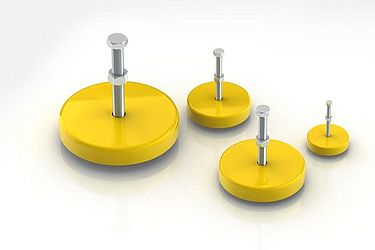 Height-adjustable machine feet from the LEV product group are maintenance-free and ready-for-installation. The precise, adjustable LEV machine feet are used whenever machines require an adjustable and stable positioning. Their function ensures the secure positioning of machinery and equipment,protecting them against damaging shocksand vibrations. LEV machine feet can be supplied in different sizes, from M10 to M24 threads, and can secure and bear loads in these sizes from 45 to 5,900 kg. The selection of suitable machine feet is simply made via the given mass of the machine or plant distributed among the desired support points. A weight distribution within the system must be considered in such a way that the feet are also measured with the associated load component. If additional dynamic loads are exerted by the machine or plant, the next largest type must be chosen in a borderline static load case. The mounts meet OSHA requirements for anchoring machines.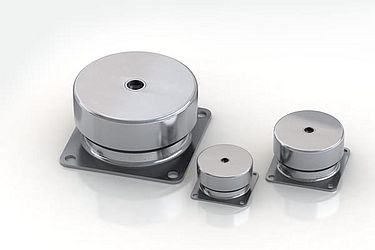 The CM cup mount protect machinery, vehicles and equipment against damaging vibrations and shocks. They are maintenance-free machine mounts. Cup mounts are designed for harsh environments and incorporate a pre-loaded low profile, fail safe design.The CMs can be installed in the applications freely in space (X, Y and Z) and at any inclination. Standard CMs are manufactured and delivered with neoprene or high damped silicone. For applications in the areas of heavy shock (off-road) and extreme temperatures, we recommend the use of the CMs with high-damping silicone as damping material. Under normal loading conditions, the CMs have a natural frequency of approximately 25 Hz (please refer to the selection diagram for exact values).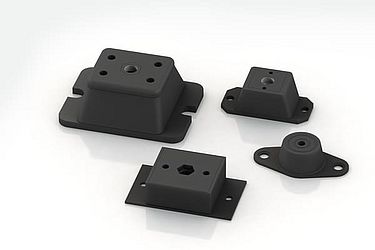 The COM compression mounts are high-performance equipment mounting elementsfor vertical machine applications. These robust, neoprene elastomer equipment mounts are primarily used in heavy-duty applications, such as pumps and compressors. In their operating range, COMs exhibit a low natural frequency of approximately 8 to 15 Hz and can be coupled for certain applications, where by the natural system frequency can be further reduced to approximately 6 to 10 Hz (please refer to the selection diagram for more exact data). They are often used in situations where unbalanced machine parts cause shock and vibration which can have a negative impact on the surrounding area. Disturbance frequencies from 900 rpm (15 Hz) are effectively isolated. With excitation frequencies of 25 Hz, the degree of isolation of the COMs is 90%. Through the use of the high-performance equipment mountings, structure-borne noise paths are interrupted, preventing the generation of resonant sound.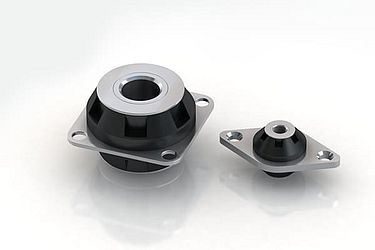 The vibration isolation mount (All-Attitude Mount) of the AAM product group are maintenance free and ready-to-install isolators that can reduce vibration and shock in all directions. The isolation effect is achieved by a special neoprene-elastomer insert. For applications in which maximum shock absorption is particularly critical, the AAMs can also be manufactured with high-damping silicone. The mounts can be installed in all axes. The AAM range is used mainly for isolating lighter electronic equipment and components.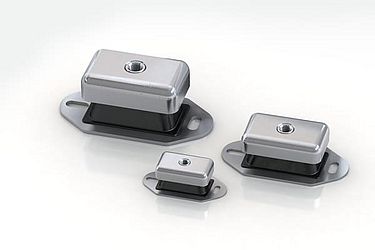 These sturdy,fail-safe isolators of the SFM product group are maintenance-free, ready-to-install machine elements. Neoprene is the standard damping material for these extremely effective isolation mounts. The isolators are used in diesel generator sets and marine engines. The SFMs are available in three sizes for applications from 50 to 1 000 kgs. Horizontal stiffness in the long direction is 2,5 times the axial stiffness and in the short direction it is 0,75 times the axial stiffness. Under a working load, the SFMs have a natural frequency of only 8 Hz.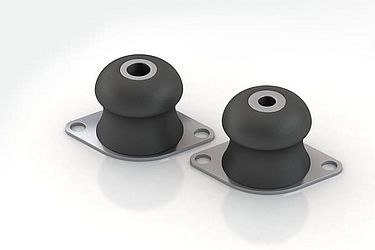 The BMlow frequency vibration dampers are used to isolate small devices, electronic components and control units. BMs are mainly used in vertical compression loads. They effectively protect electronic or medical equipment against damaging vibrations and shocks.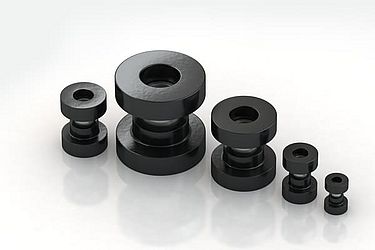 Universal Mounts (UMO) aretwo-part isolatorsfor connecting machines with bordering components, such as vehicle cabs, electronics and transmissions. The UMOs can be installed in any spatial position and effectively decouple two components from each other. A galvanized metal spacer is vulcanized into the elastomer cylinders. The UMOs can be used within the wide temperature range of -20 °F to +180 °F.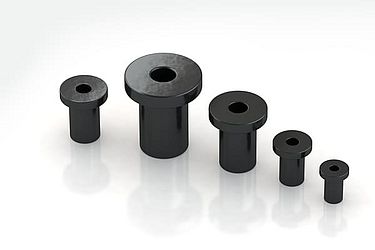 FLs areremovable,quick fastening elements for vibration isolation and shock absorption as well as the isolation of structure-borne noise. They are designed so that only one element can be used to effectively decouple two components from each other by tightening a fastening screw. Standard metric screws (M3 to M8) can be used to tighten the connecting elements; no additional special tools are required. The FL elastic fasteners can be fixed via the screw connection into blind holes to connect panel elements to existing structures. The inner threaded insert serves as an expansion element for fastening. The EPDM (Ethylene Propylene Diene Monomer) material used is resistant to ozone, oil and most acids. Standard FLs are available in five sizes from M3 to M8.
Vibration-Isolating Pads
Many applications, such as machine foundations, supports, decoupling elements, pipelines and retrofitting machines, require tailor-made solutions. In these cases, ACE offers complete insulation options with its range of vibration damping foams. The products are manufactured and supplied either in the form of standard foams or in the form of parts designed at the customer's request.

Foundations of installations and machines, compressors, in pumping stations, for generators

For use in foundations, buildings, conveyors, bridges, stairs, test benches, pumping stations, generators, compressors, machines, etc.

For insulating and protecting the foundations of, for example, presses, installations or machines. Or for use in pumping stations, crane paths, bridges and high load applications.
---
ACE Application
ACE Stoßdämpfer GmbH developed an Iphone application which measure vibrations, and then propose a list of vibration isolation solutions for your application.