Cooling unit / Coolers AK Series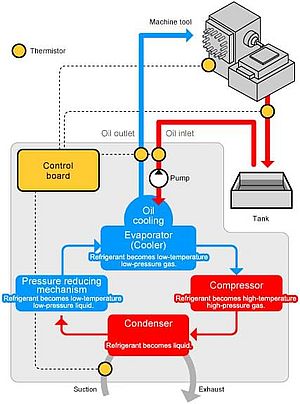 DAIKIN's AK series cooling units, the market leader in air conditioning, will allow you to save up to 45% on energy consumption.
Save energy with INVERTER Technology
DAIKIN has integrated "Inverter" technology into its coolers for hydraulic and coolant fluids. This technology allows a radical energy saving while reducing the engine rotation speed under pressure maintenance conditions. In addition to Inverter technology, these cooling units are also equipped with IPM motors to improve the characteristics of industrial machines.
Features
High-precision temperature control
Now includes a control at ± ;1°C with loads from 0% (without loads) to 100%.

Inverter technology
This technology allows energy savings of up to 45% compared to a conventional cooling unit and without inverter

Compact and durable
Control box equivalent to IP54 and electrical components resistant to sulfidation

Different operating modes
9 operating mode models are available

IPM motors
A synchronous motor with an internal permanent magnet and complying with IE4 standard. It also allows a drastic energy saving by reducing the motor's rotational speed

Low noise level for a better working environment

Applications

DAIKIN chillers will save you energy and space in applications such as:
Machining centre
NC lathes
Grinding machine
NC specialized machines
NC electric discharge machines
Molding machine
Press
And many more.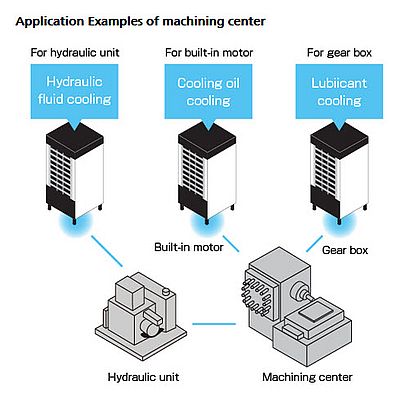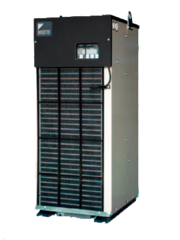 Type Circulation
AKZ series for oil
High precision with inverter compressor and electronic expansion valve
Monitoring of the operating status using the Hybrid-Win tool
Oil cooling unit (integrated circulation pump)
Closed type cooler
New R410A refrigerant
AKW series for water
Extension of the cooling capacity control range
Environmentally friendly unit
Improved very accurate temperature control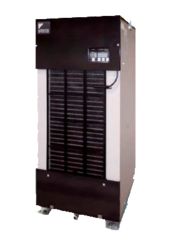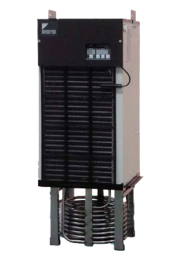 AKC Series for Coolant
Integrated circuit cooling unit for cooling liquid
Inverter compressor
Type Immersion



AKJ series for oil and coolant
Cooler placed on the coolant tank and which cools the fluid inside the tank directly with a cooling coil
Open type stainless steel cooler
Inverter compressor and electronic expansion valve