BIBUS - your innovative and reliable partner for customised solutions!
From a large number of components, we put on single delivery unit together for you. Whether you require a tailor-made component, a sub-assembly or a complete solution, we supply you with the module as you imagine it.
Tested by us, with all design specification, wiring diagrams and delivered with a functional warrantee, we shorten the distance for you between the concept and the machine and thus reduce your interface.
We provide ideas for implementation, develop detailed planning, calculating the cost and produce the assembly or a prototype if requested, which we subject to comprehensive tests.
We support you with advice and practical help from the sketch to the implementation.
We carry out the necessary functional tests in special assembly and control rooms.
Planning and designing of
Pneumatic controls
Handling technology
Automation systems
Equipment engineering
Special cylinders
Special valves and valve manifolds
Packaging services
Add-on parts
Examples of customised assemblies: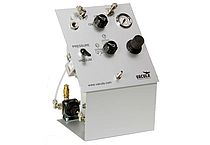 Bleeding unit for mobile hydraulic systems
This unit was specially developed for regenerating and bleeding mobile hydraulic systems.
This assembly was produced based on the comprehensive specifications of the end-customer. Due to the intensive cooperation with the manu- facturing plants and taking all necessary standards and workflows into account, commercial viability was achieved very quickly after tests with a prototype.
Pneumatic drive for textile machine. Designed for continuous operation and correspondingly high numbers of cycles.
Cutter unit for cardboard profiles
This unit was developed for the automatic sectioning and cutting of cardboard profiles. During the cutting process, the knife moves with the profile to then return to its original position. The process is controlled by SPS and contains sensors and a measuring system.
Control panel for textile machines, completely wired to the electric interface and tested.
Handling for packaging machine
Electro-pneumatic automation system for the remov- al, transport and closing of bags in the food and animal feed industry.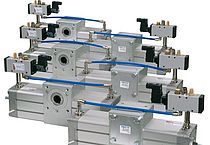 Complete drive for a dosing slide in the food industry. In semi-automatic or fully automatic version for stepless positioning.
Examples of tailor-made components:
Compact cylinder for printing machines for very high actuation force. Adapted to the restricted space conditions in the machine.
Very compact cylinder unit aligned to customer needs with flange-mounted high speed solenoid valves. For operation at the range of textile machines with extreme requisites in circuit time and product durability.
Low-cost switch drive fro conveyors systems in the chemical and food industries.